Introduction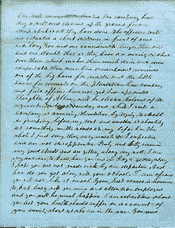 One of Milo's letters.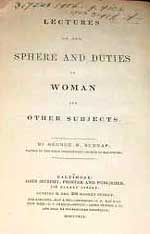 This was an age overly sure of itself in many ways, as indicated by this book of lectures, by a man, on "The Sphere and Duties of Woman."
These are the letters of a man caught between divided loyalties. An idealistic northerner educated in the same tradition that produced Emerson and Thoreau, Milo Grow moved south to Georgia shortly before the Civil War, where he taught school and practiced law.
There, he seems to have found a place among the colorful individualists of the small-town South, made friends, developed strong loyalties, and married a spirited woman in a setting where that meant marrying into a whole family, a community, and even a way of life.
These must have been difficult times for a candid, educated Yankee in the deep South. According to historian David Williams in Rich Man's War, it was a felony in nearby Alabama just to speak out against slavery. Most opponents of slavery had been run out of the region.
The region was profoundly divided about slavery. Many rugged farmers owned a slave or two, around three-fourths of the population owned no slaves, and the majority of the South (including Georgia) opposed secession.
But large planters and slaveholders dominated the economy and the legislatures, and it was not difficult for them to enlist the allegiance of non-slave-owning whites, many of whom seem to have entered the war thinking it would be a brief demonstration of superior Southern spirit and a defense of their independence as a region.
Milo did not enlist at once. In fact, he and his friends volunteered for "the Miller County Guards" only after the draft was declared in 1862. Milo must have been under pressure to enlist--to demonstrate loyalty to his friends and new family, which now included an infant son, and to protect his family from the threat of violence for harboring a Yankee. Also, as Williams points out, enlisting enabled Milo to get a fifty-dollar bonus and choose which unit to serve in.
The draft was not universal. Holders of more than 20 slaves were exempt, and anyone wealthy enough could buy his way out. The Confederate Army seems to have been populated by those with the least to gain from the war. One of Milo's letters complains that the enlisted men are treated like slaves.
The war was not universally popular in this remote region of the South. In parts of nearby counties, some men never joined the war at all. In nearby Dale County, Alabama, guerrilla bands of war resisters prevented Confederate agents from drafting men, attacked supply trains, and kept circuit court from holding sessions.
Milo's Northern family reported afterward that he had kept a diary in which he expressed his opposition to slavery and secession (mentioned in Davis, 1913). That diary has not been found.
Aura Lea
by W.W. Fosdick
A song popular at the time
When the blackbird in the spring, on the willow tree,
Sat and rocked, I heard him sing, singing Aura Lea
Aura Lea, Aura Lea, maid of golden hair,
Sunshine came along with thee, and swallows in the air.
Chorus:
Aura Lea, Aura Lea, maid of golden hair,
Sunshine came along with thee, And swallows in the air.
In thy blush the rose was born, music when you spake,
Through thine azure eye the morn, sparkling seemed to break.
Aura Lea, Aura Lea, bird of crimson wing,
Never song have sung to me, in that sweet spring.
(Chorus)
Aura Lea! The bird may flee, the willows golden hair
Swing through winter fitfully, on the stormy air.
Yet if thy blue eyes I see, gloom will soon depart,
For to me, sweet Aura Lea is sunshine through the heart.
(Chorus)
When the mistletoe was green, midst the winter's snows,
Sunshine in thy face was seen, kissing lips of rose.
Aura Lea, Aura Lea, take my golden ring,
Love and light return with thee, and swallows with the spring.